Orange Plaza Rotary isn't always on the go.  Sometimes, we take a break from our many service projects and sit down for food and drink with an interesting speaker.
Our Wednesday night meetings at Marie Callender's are low-key and interactive, allowing us to get to know each other and our guests.  In the last month or so, we've had a great time with:
Dr. Lynn Marran – The founder of Children in Focus, a nonprofit organization that screens and treats children for functional vision problems that can interfere with learning. Over 30 optometry students have participated in training to detect these problems and more than 400 children have benefited from the program. Dr. Marran volunteers at local schools and shelters through Vision for Life and the Illuminations Foundation to provide eye care for the needy.
Chris Epting – Chris Epting, author of the new book "Teddy Roosevelt in California".  Through firsthand accounts, speeches and rare photographs, author Chris Epting tells the story of a great and profound journey that had a lasting effect on conservation history and the National Park System.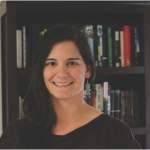 Hope Nelson – This former Rotary Youth Exchange Student spent an incredible year in Emsdetten, Germany sponsored by the Rotary Club of Conroe, TX during 2007-2008. It was one of the most influential years of her life, where she "caught the travel bug". Upon returning, she attended Texas A&M University and joined the Corps of Cadets, graduating in 2012 with a double major in International Studies and Russian, and earning a commission in the United States Army as a Military Police Officer.  Throughout her career, she has spoken at clubs throughout Texas and Missouri about the impact that Rotary Youth Exchange made on her life.
Kristen Davis – Member Kristen Davis did a great job presenting "Let's Talk Rocks" at the July 11th meeting. We had six kids in the audience, and a couple of them brought rocks to share with Kristen and ask for her professional help in identifying them. A trained geologist, Kristen has a large personal collection of rocks and minerals and takes regular "field trips" to find new specimens. Thanks for the "craft talk" Kristen!
Next up?  Rotary District 5320 Governor Ray Sanford.  Join us on July 20th!