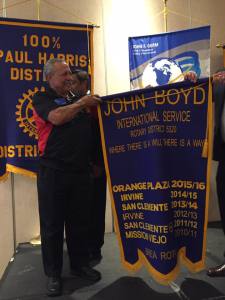 Orange Plaza Rotary received numerous honors for its work during the 2015-2016 Rotary year. The club was recognized for its activity in all areas of Rotary service, including its international service project partnering with the nonprofit organization "Stop Hunger Now".  For its efforts in organizing a food packaging event that sent more than 40,000 meal servings to Vietnam and the Philippines, Orange Plaza Rotary was honored with the  "John Boyd International Service Award" presented by fellow Rotarians of the Rotary Club of Brea on July 11th.
The Rotary Club of Orange Plaza Rotary was recently named "Best Small Club" among the 45 Rotary clubs in District 5320, which includes all of Orange County and parts of southern Los Angeles county.  The "Best Club" banner was awarded at the May 2016 District Conference in Newport Beach by then-Governor Kevin Padilla of Placentia.
On behalf of Rotary International President Ravi Ravindran, Governor Padilla also presented the prestigious "Presidential Citation" to Orange Plaza for the Rotary year ending on June 30th.  In making the award, Rotary International noted the participation of more than 75% of Orange Plaza members in "hands-on" projects in the community, praised the group's sponsorship of a student service organization (El Modena High School Interact) and thanked the club for its financial support of The Rotary Foundation, the charitable arm of Rotary International.
Orange Plaza Rotary (widely known as the organizers of the Annual Orange Plaza Car Show) also received the "Quality of Life" Award from the Orange Chamber of Commerce on June 16th.  The award, shared with two other Rotary clubs in the city, recognized the club for outstanding service by a nonprofit organization. OPR's local service projects include quarterly food drives for homeless veterans, design and installation of custom wheelchair ramps for the disabled, and guiding high school students through the signature project, "Mentor Meals".
The Rotary Club of Orange Plaza plans another busy year of service in the next twelve months, expanding successful programs and adding new community-based projects in the City of Orange.