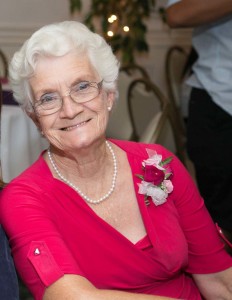 Although Sue was out of town celebrating her birthday with family and friends, the Rotary Club of Orange Plaza marked her service to our community at the Rotary Business Leadership Awards, held October 17th at the Doubletree Hotel.  The event is organized by Rotary District 5320 and allows Rotary clubs to honor Rotarian and community business leaders for their service, vocational leadership and business ethics.  About Sue:
Sue Hayes, Owner and Operator of Showcard Signs in Anaheim, was a member of Orange Plaza Rotary for 5 years.  She has recently joined the rolls of "Honorary" members so that she will have more time to focus on her family and growing brood of grandchildren. But even without active membership, Sue continues to live the 4 Way Test in her personal life and business.  She shares the Rotary philosophy with others, but most particularly the youth she serves in our community.  She is a role model to many, including several years of RYLA family members.  As Sue prepares for retirement, this is an excellent opportunity to recognize her contributions to the community and to Rotary,

As a sign maker, Sue has donated hundreds of hours of staff and personal time designing and producing a variety of signs and placards for Rotary club and Rotary District events.  These professional items are delivered on-time and Rotary is billed only for materials.  (But only after years of urging Sue to bill us something!)  Sue has also opened her shop as a location for Rotary service projects, including the production of more than 2 dozen baby blankets for low-income parents.  With her years of experience working with event planners and large corporate clients, she is often the first one to be called for a contact to get a Rotary event underway.  Sue is always ready to serve, with a smile.

Sue's easy going nature is reflected in the stability of her team of employees.  Most have worked for Sue for years or even decades.  The team works hard and sometimes very long hours to meet important client deadlines.  They do this because Sue is a natural leader, leading by example, willing to work side-by-side with her team.

Sue demonstrates the same leadership and team skills in a Rotary club setting and in other organizations where she gives her time.  A small club such as Orange Plaza can often become fractious under the stress of implementing an important service project or a huge fundraiser such as the Orange Plaza Car Show.  Sue never loses her cool and always focuses on how the team can get the job done.  She is a calming presence and is always, always concerned with the well-being of others.  With every new greeting, Sue will ask after your family, your pets, your car and sanity.  With Sue, you know you always have a friend in Rotary.

While Sue is easy going, she's certainly no push over.  As a woman business owner with large corporate contracts throughout Southern California, she must demonstrate the will to get the job done.  Her ethical commitment to keeping her promises also keeps her in business.

In addition to Sue's many long-term employees, she has maintained long-term customers, including the property managers of the Fashion Island shopping center, by dealing with them fairly and with the ultimate professionalism  There is no greater testimony to the ethical operation of a business than a repeat customer.

As a business owner and leader, Sue applies her skills in serving youth through RYLA and other organizations.  In the past, she has been very active in the Girl Scout organization.  For the past several years, she served as a "Team Assistant" or "Mom" for RYLA families at the District 5320 event.  Because of her compassion, work ethic and communication skills, Sue is still in touch with many of her RYLA "kids".

Sue has applied her leadership and skills to assisting the disabled clients of Elwyn California.   She has been a regular attendee of Elwyn events, volunteering at picnics, bowl-a-thons and other activities.  Her open friendly attitude makes it easy for these clients to enjoy her company and even a rousing game of Bingo!
Thank you Sue Hayes, Community Leader!