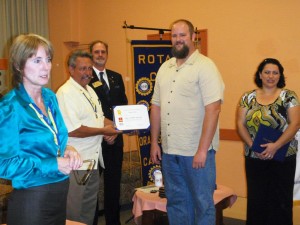 Two new Paul Harris Fellows, Tracey and Jason Curtis, were recognized for their contributions to Orange Sunrise Rotary and to The Rotary Foundation at a special dinner held November 4, 2009.  The event was attended by Assistant Governor Ken Caplin (Rotary Club of Orange North) and District 5320 Governor Bret Gerdes, who pinned each new Fellow with the special PHF insignia.
President Rae Shirer (left) and sponsor Joe Colombo present Paul Harris Fellow recognition to Jason and Tracey Curtis as District Governor Bret Gerdes (center) looks on.
Tracey was honored for raising more than $440 for the campaign to End Polio Now by selling tickets and hats to the Angels baseball fundraising event held in August.  Jason is one of the masterminds behind the Orange Sunrise "Thursday Nite Cruise" at the Village of Orange, which has raised $5,000 for The Rotary Foundation since July of 2009.
Certificates of Recognition from the Rotary Foundation Trustees were presented by Orange Sunrise member Joe Colombo, their membership sponsor, himself a Paul Harris Fellow.  Joe was recognized as a "plus 1" Fellow and presented with a new pin in honor of his fundraising efforts for the Foundation.
Members Teri Snyder (Paul Harris "plus 2"), Rae Shirer (+2) and Dolores Marikian (+1) were also presented with new pins for the contributions.
Each level of recognition represents $1000 donated to the Rotary Foundation in the name of the honoree.

Teri Snyder received her Paul Harris "plus 3" recognition from Governor Bret Gerdes.