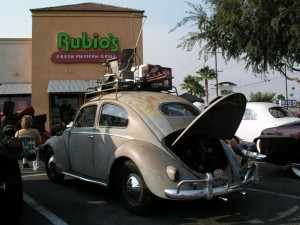 Rubio's Fresh Mexican Grill is now a sponsor of the weekly Thursday Nite Cruise, raising funds for The Rotary Foundation.  Rubio's donates 20% of the net proceeds. joining neighbor Fatburger in supporting Orange Sunrise Rotary.
More than 100 car owners bring their classic, customs, hot rods, street rods and "rats" to the Village of Orange parking lot each week.  Car enthusiasts support The Rotary Foundation by chowing down on great hamburgers, onion rings, fish tacos and the occasional cerveza.
Since it began in July, the cruise quickly became a tradition, with many returning every week.  Car owners bring their own chairs, to sit, chat and share their love for the automobile.
As of August 30th, more than $2,400 has been raised for The Rotary Foundation.  On September 24th, Orange Sunrise began collecting items for "Operation a Bit of Home" as well.  The donated DVDs, hygiene supplies, sports and recreation items, snacks and other goodies will be packed and shipped to Freedom Rest in Iraq by Orange Sunrise members.
Because of the generous support of Fatburger, Rubio's and the car loving community, the Thursday Nite Cruise will continue all year long!  Current hours are 5:00 to 8:30 at the Village of Orange, 2318 N. Tustin Ave., Orange, California.