Orange Sunrise Rotarians headed to Fred Kelly stadium on July 3rd for the City of Orange Independence Day celebration.  Members munched on bratwurst at the YMCA booth and wandered about listening to live bands as they sampled the crafts and food presented in nearly 20 other booths on the El Modena High School campus.
John L. and John R. Bouyer wait for the show to to begin.
Rotary kids John L. Bouyer and Samantha Marikian enjoyed the giant inflatable slides and bounce house before everyone settled into the stadium for music and fireworks.  The Orange Community Chorale of Santiago Canyon College, fresh off a trip to perform at Carnegie Hall, presented a program of patriotic favorites, alongside a large-screen video show.  Finally, it was time for fireworks!  The show was timed to recorded music building up to a spectacular finale.  The annual celebration is a great way to kick off Independence Day!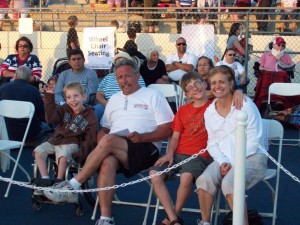 Joe Colombo celebrates with nephews Aidan and Dustin and sister Karen.